You've woken up feeling refreshed and, for a split second, you have forgotten all about the events of the night before. Suddenly you remember and there is another person in bed with you, only one-night stand etiquette isn't exactly something that is taught in high school. What are you supposed to do the morning after a one night stand, or indeed in the immediate days afterwards?
That's where Hookupdaters.com steps in, offering the best advice for anyone who has had - or plans on having - a one night stand. Whether you are experienced in hooking up with strangers or it is something completely new to you, we are sure that you can learn a thing or two by reading on.
What to do the Morning After a One Night Stand
If you have no interest in pursuing things any further - i.e. hold no romantic interest - then you are best to move swiftly so as it isn't any more awkward than it has to be. Follow the following step-by-step guide to the letter on how to act after a one night stand:
Wake up early (don't sleep in) so as you can get out quickly if you are not at home, or to get your date out before anyone comes in if there is a possibility of this happening
Don't walk around naked; make sure to cover yourself up - preferably with your own clothing. You're going to have to make your way home (the dreaded walk of shame), so make sure you look at least half respectable
Under no circumstances should you rummage through their stuff, respect their privacy (even if they did bare it all just a few hours ago
Make small-talk, because there is nothing worse than awkward silence
Skip breakfast if they offer and get out as soon as you can, there are plenty of fast-food joints and cafes you can stop by for a bite to eat
Kiss them goodbye and thank them for a good night. Don't lie and say that you would like to see them again if you have no intentions of ever doing so
Should You Get in Contact After a One Night Stand?
If you would like to speak to the guy or girl you hooked up with and meet up for a couple of drinks, then why the heck not? You might just find that you have more in common than you initially thought...it could just be the beginning of an unlikely romance. Nothing says that you can't stay friends with someone you hooked up with, even if it is just to send the occasional message.
Perhaps you were already familiar with each other, in which case you want to know what to do after a one night stand with a friend. It is likely going to make things awkward, if not for just a little while, depending on the type of friendship you have. You should definitely get in contact and if you are unsure as to what to text a guy or girl after a one night stand, message something about the night that will make them laugh. Perhaps you quite like the idea of making this a more common occurrence? If so, why not broach the subject of being friends with benefits?
What do Guys Think After a One Night Stand with a Girl?
It is no secret that guys are very visual and physical creatures and are much more capable of separating emotions from sex than girls are. After a one night stand, the guy is likely thinking about his performance (both in terms of the girl he pulled and in the sack) and wondering if he would want to do it again (let's be honest, you would have to be pretty bad for him not to consider hooking up again).
Some wonder can a guy like you after a one night stand and the answer is absolutely yes. Many couples who met by having a one night stand have gone on to enjoy a serious long-term relationship, even leading to marriage. It is the 21st century and people are no longer as prude as they once were - if you want to fuck someone you have just met, then go ahead and do it! If, afterwards, you would quite like to get to know them on a deeper level, then go and do that, too. It's your life and you do with it what you want to do.
Women's One Night Stand Tips - What You Should/Shouldn't do
You shouldn't settle for just anyone, only hook up with someone you like and are attracted to
You should practice safe sex - it's always good to carry condoms (and that goes for guys, too)
You shouldn't have a one night stand for the wrong reasons, that means don't get into bed with someone just to get back at an ex or a former friend because life is already filled with too much drama. Keep it fun!
You should ask for what you want in bed. Don't be afraid to come out and ask for exactly what you want to do, or have done, in the bedroom...no matter how kinky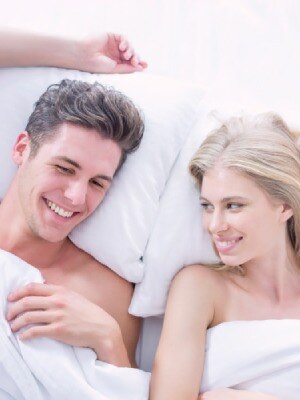 What if you Regret a One Night Stand?
If after hooking up with someone you are wondering how to get over a one night stand and pretend that it never happened, just remember that no one ever needs to know. It is no one else's business and there is no need to feel guilty. Sex doesn't have to be anything more than that - as long as you had consensual fun and no one was hurt, then everything is good! Sex is fun and there is nothing wrong about enjoying it, which is why so many singles have signed up to Hookupdaters.com in search of finding an ideal match to have a one night stand with. Sign up today to connect with like-minded local men and women looking for fun tonight.
When Should You Have Sex in a Relationship?
There is no right or wrong answer when it comes to knowing how long to wait to have sex in a new relationship, so how do you know when the time is right?
When is the Right Time to Have Sex with a New Partner?
A blossoming romance is always an exciting time as you get to experience the butterflies that come with all the new first times with your boyfriend or girlfriend. That first date, first kiss, the first time you utter those three words and, of course, the first time you have sex with each other.
The meaning of sex varies from person to person. Many see the act of lovemaking as a major step in a new relationship - the moment that establishes two people as a unit, while others hold a more liberal view of sex. Wherever you fall on that scale, knowing when the time is right - as well as how to make that all-important move - isn't something that comes easily, or naturally, to many. Here, we will cast some light and some helpful advice on when is the right time to have sex when you are in a new relationship.
How Long Should You Wait to Have Sex?
You are probably aware of the so-called three date rule, which suggests that if you can get to a third date with your romantic interest then you are likely to see some action. That doesn't always ring true and you should never approach a third date, or any date for that matter, with the assumption that you will be having sex. If it happens, it happens...just make sure that you are prepared for if and when it does. Generally, for younger couples, sex is considered to be a much bigger deal. Likely because they are not as experienced and the possibility that either one or both is a virgin. If this is where you fall, then make sure to speak openly with your partner so as you are both on the same page. Communication is key, both to any hopes of a long-term relationship and when it comes to sex.
Talking openly about sex means that you are both clear about where the other one stands, as well as showing maturity and a willingness to commit. Sex should not be considered a taboo subject between couples, regardless of how long they have been together.
First Time Sleeping with a New Partner
There is little as exciting as getting intimate for the first time with a new boyfriend or girlfriend. The unveiling what lies underneath their clothes, finding out what they like and learning all about your partner on a new sexual level is one of life's little luxuries that makes living so beautiful. Before the first time having sex in a new relationship, it is important that you do not overthink things too much and just go with the flow. Allow whatever happens to happen and, most importantly, maintain clear and open communication with each other.
As the relationship continues to grow, you will learn more and more about what makes each other tick and pick up on little signs that show what they like and dislike. Until you pick up on each other's little quirks, the only way you are going to know exactly what the other wants in the bedroom is to be direct and open about it, although this can naturally be awkward as talking dirty comes more naturally to some than others. Your first time is going to be an exciting experience no matter and you may just find that the release of pent-up sexual desire and passion makes for a night that you will never forget.
The most important piece of advice for any new couple when it comes to your first time under the sheets is not to rush it. Focus more on the journey as opposed to the destination and don't put too much pressure on yourself to be the best they ever had. Be in the moment and take the time to enjoy one another's body, losing yourself in their touch and watching as they lose themselves in yours. The experience will bring you closer together and, the best part is that you can get plenty of practice in together to work out any of the kinks!
The Role of Online Dating and Sex
In the modern-day, more and more singles are taking to online dating site, such as Hookupdaters.com, in search of love and companionship. As it has become harder and harder to meet someone out and about in the street, turning to a dating service has become much more socially acceptable. Whereas before you might want to keep it quiet and hidden from friends and family members if you dare post an advert in the personals section, now nearly half of all couples in the United States of America are meeting online.
As well as those looking for something serious that may one day lead to marriage and children, many are looking for one thing and one thing only - sex. As we mentioned earlier, many hold more liberal stances when it comes to sex, believing it to be something as natural as tending to your daily business and there is absolutely nothing wrong with that. When two consenting adults connect with each other and hookup knowing exactly what the other is wanting, it can make for a very liberating experience...as well as a highly pleasurable one!
As is always the case, openly communicating your desires with your partner is key. Do not feel embarrassed or ashamed of what you are looking for and neither should you leave the other in the dark. That is a good rule for anyone to live by, whether they are a wife or husband, are dating a new partner or are meeting someone for a casual encounter. Waiting to have sex can be frustrating but, with the right person, it will be worthwhile.